ACTIVITIES & ACTIVITY LOG FORMS
We have implemented the "Activities" & "Activities Log" forms and they are now available for use in your agency. You can now create and track activities for your Clients/Individuals.
Activities: Add and View Activities Options for Your Agency
Activities Log: Document and Stores Activities of the Clients/Individuals.
Access The "Activities" and "Activities Log" Forms
Click the "Home" tab at the top menu
The "Activities" and "Activities Log" forms will be displayed under the forms list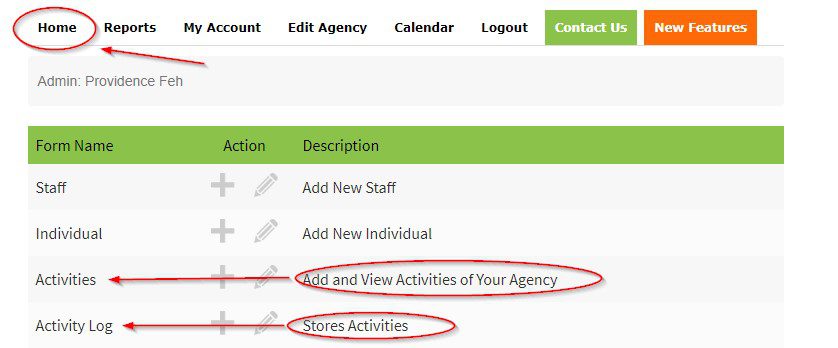 View & Add Activities of Your Agency
Go to the Activities Form and click the "+" Icon next to the form

You will see a list of default activities
Click "Add+" Icon to add a new activity to the list. Once you click the "Add+" icon the blank field will be displayed for you to type in a new activity
Click the "Trash Can" Icon to delete an activity from the list of default activities


Click "Submit Form" button at the bottom to apply changes you made.
Edit Activities of Your Agency
Click the "Home" tab at the top menu
Next to the "Activities Form" click the "Pencil" icon

You will see a list of default activities
Click "Add+" Icon to add a new activity to the list. Once you click the "Add+" icon the blank field will be displayed for you to type in a new activity
Click the "Trash Can" Icon to delete an activity from the list of default activities

Document and Store Activities of the Clients/Individuals.
Go to the Activities Log Form and click the "+" Icon next to the form

In the drop-down, choose the name of the Client/Individual that you want to document the activity for, and then choose the date of the activity

The "Activity Log" page will be displayed for you to document the activity and additional information needed
After you fill the activity information, click "Submit Form" button at the bottom to store the activity
Note:
You have an option to add the activity to the client/individual's Calendar by simply checking the "Add to Calendar" box
If the client/individual decline an activity, you can check the "Declined Activity" box
You can check the box "Urgent" if you want your supervisor to review the activity. Once you check the box, the blank field will be added for you to type the supervisor email. They will receive an email immediately
Edit Activities Log of the Clients/Individuals.
Go to the Activities Log Form and click the "Pencil" Icon next to the form

The "Activity Log" Edit screen will be displayed
In the drop- downs, choose the staff name, client/individual name, and the date(s) of the activities log you want to edit then click "Submit" button
The Activity log section will display the activity record that you want to edit at the bottom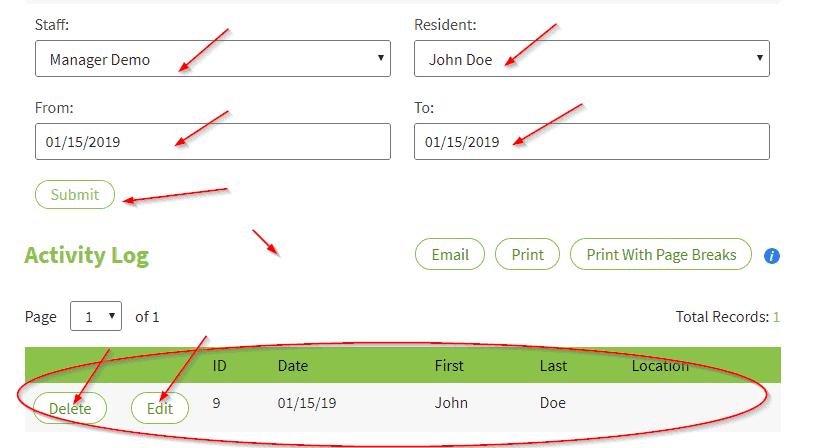 You can click "Delete" button to delete the record
You can click the "Edit" button to edit the record
If you click edit button, you will be taken back to the "Activity Log" page where you can edit the activity information of the record you chose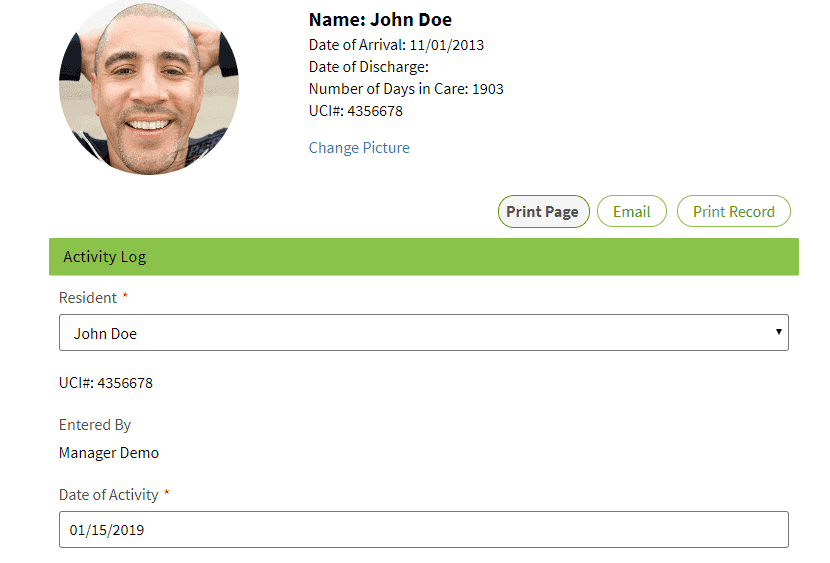 NOTE:
If the forms are not displayed for your agency, you can activate them using the procedure below. Only an Admin can activate the forms

Activate the Activities" & "Activities Log Forms
Go to the "Edit Agency" Tab at the top menu


Scroll Down and click the link "Show/Hide Forms"


Locate the "Activity Log" form and check the boxes under Manager & Staff Access and click "Submit" button at the bottom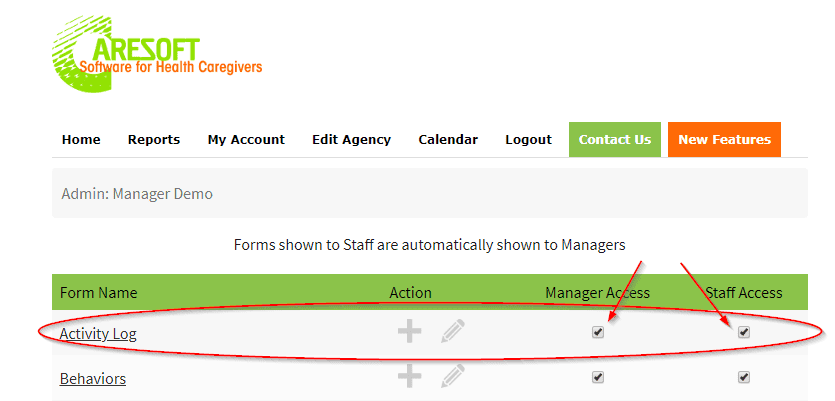 Click the "Home" tab at the top menu
The "Activities" and "Activities Log" forms will be added to your forms list for use
Release Date:01/09/2019